Have you ever felt the need to throw a fork at someone?
Throw a TV out the window or something equally absurd because you're so friggin mad at your partner or kids?

Shout at the door?

Are you permanently in a bad mood – or belittling yourself all day?

Are you feeling angry, frustrated, overwhelmed?

Struggling to feel joy?
Do you feel sh1t when you think you haven't done what you should have?
Or you're not good enough, you're too lazy, too fat, too ugly, too slow?
It's an effort to get up in the morning – or you can't even…
You can't "feel" your body – or can't remember how you feel because you have forgotten to notice.
Ignore emotions so that you don't have to deal with them?
Or pretend that you're fine and try and talk yourself into feeling good.
We all know that internally that is clearly not a good strategy!
Do you have a desire for more balance in your life?
And a desire for a healthy way of handling your feelings? 
I completely get you! I felt like that too!
In the past I couldn't find a suitable «escape» for my emotions. Going for a walk, meditating or lazing around was simply just not enough to get by with my emotional world.
It was clear to me that there MUST be another way to relax, to get rid of the crappy feelings and the shitty thought carousel in my head.
Instead of binge watching Netflix (which I don't have) – or having to share the tv remote with someone else, eating chips, drinking wine – which you can still do if you wish – I remembered the painting sessions I experienced during my training as a Kinesiologist and decided to start painting again.
And you know what? It was like a cloud was lifted after every painting. It was such an amazing freeing experience!
Whether alone or with a soul mate, this might just be the perfect opportunity to focus on getting calmer, more content or even rediscovering a new joy or hobby.
The ART is in letting go
Here is what you will gain from participating
♥ Learn to focus on being in "here and now"
♥ Let go of negative beliefs
♥ Allow perfectionism to take a back seat
♥ Find a new creative way to release stress
♥ Discover a healthy outlet for feelings that need to be released
♥ Let go of our inner critic – no judgment
♥ Come away feeling refreshed and renewed
♥ Connect to your inner curiosity and playful side
♥ Develop Inner guidance and intuition
♥ Give your senses a voice
and much much more…
Why is it helpful to express emotions through ART?
It provides a healthy outlet for feelings that need to get out. Painting is meditation. It has been proven that meditative and creative activities produce the same brain waves.
By expressing and learning to understand emotions you can process through self-acceptance and healing.
This process is soo surprisingly simple, yet inspiring and relaxing.
What if you could let go of your inner critic and the annoying need to judge or criticize yourself?
Each workshop you will immerse yourself in an experience of colour, sound and flow.
I put my best strategies together to create this course for you – you'll find a plan of action for a routine that will help you take back "ownership of your emotions".
Painting gives you a space in where you can keep control – learn to let go of your inner critic, self-sabotage, judgement and criticism (and even if that comes up – we'll deal with it).
It was a great and wonderful experience! Absolutely and highly recommendable!
I really felt great feeling the paint and I'm not someone who ever paints, so this was a wonderful opportunity for me to do so. It gave all my senses basically a voice. Highly recommend.
How it works
We will be releasing emotions through ART.
For beginners, no prior knowledge is necessary and for longtime painters (who might be experiencing a creative block) the possibility of inspiration, new impulses and flow
Relaxed and fun sessions where there are no rules. No pressure to paint pretty pictures but just enjoy opening to your natural self to create and be at one in that space
This is a non-religious experience open to anyone seeking deeper forms of connection to their inner self
During the sessions, Meditation and relaxation play an important role. You will be able to relax through guided visualisation, which will stimulate a shift in your brainwaves, relaxing your body and calming your mind, so that you will be ready to create in total freedom
Art is a very powerful form of expression, a way to communicate through our inner self, whilst still in silence
Enjoy this time you spend with yourself; it is uniquely satisfying and fun to spend time in the creative process.
You come away refreshed and renewed. You have been with another part of yourself – a part that is more accepting and free.
This can become a self care practice for many or a way to connect on a deeper level in a group setting (especially for those struggling with anxiety).
This is not a technical "how to paint" session. In fact, "how not to paint" would be more fitting
Open to all skill levels of both meditation and art
The sessions are facilitated in a safe, non-judgmental environment that is free from comparison and critique
The community is an enrichment for all to benefit from
We focus on the experience rather than the finished product
It is a journey into the unknown, an opportunity to inhabit the present moment
This is what you will get
♥ 6 months access to all the intuitive painting workshops
♥ up to 12 guided meditations sessions with painting
♥ Receive instructions for the paintings
♥ Live calls in zoom with feedback from me
♥ Techniques for everyday to stay balanced and calm
♥ all for only USD 297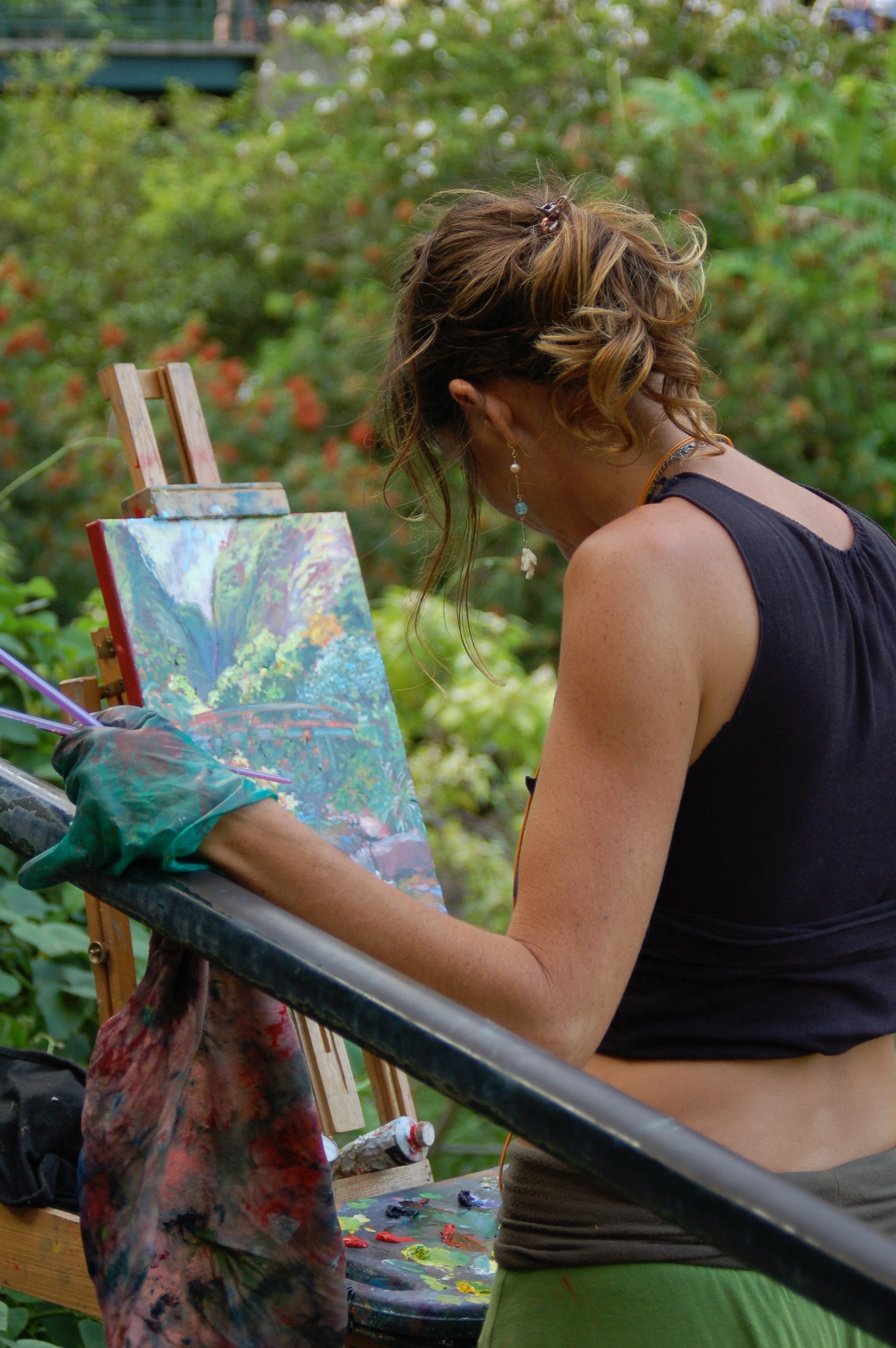 FREQUENTLY ASKED QUESTIONS
What is intuitive painting?
Intuitive Painting IS… 
An opportunity to explore how we feel through art mediums like paint and canvas. This can become a self care practice for many or a way to connect on a deeper level in a group setting (especially for those struggling with anxiety).

The goal of most of these kinds of courses is to help people learn to let go of the outcome, be present with whatever comes up and breathe through the challenging parts of what we experience. For some this is pure joy! For some this can be very challenging – which is why the course helps to make it easier in learning to release blockages.

There is no correct OR wrong way to experience self expression….it's just an expression.

How can this help us in everyday life?…That's the miracle in this amazing course. In just 6 weeks we experience, express and explore with complete abandon….and most people do!

The art is in the LETTING GO…..we create safe space, feel what moves us and we see what unfolds?..

Learn more about yourself through this unique experience.

Many people have found this process beneficial with releasing emotional blocks such as self-doubt, grief, anger, stress and depression.
Do I need to be an artist to attend this workshop?
Absolutely not. As a human, you're by definition a creative person. For beginners, no prior knowledge necessary and for longtime painters a possibility of inspiration and new impulses.
What happens during the classes?
It's a moment for yourself, where you have the space to freely explore your emotions and intuitions. Our goal won't be to create a masterpiece, but to release comfortable and uncomfortable feelings, and to help you reconnect with your creative energy.
How and where will the classes take place?
The classes will take place on live zoom calls.
There will be a meditation at the beginning of the call, then you have time to do the painting. At the end of the time – usually 20 – 30 minutes – we connect to discuss your journey and insights.
What materials do I need?
You will have different access to art materials depending on your budget and location.
Use this as a suggested list to prepare you for the course.
If you don't have everything on the list, don't worry. If inspired, you can buy more material along the way. Also, improvising is a wonderful part of the process!
Materials needed or worth having for the start
♦ Watercolor paper or canvas (the bigger the better)
♦ Basic set of acrylic paint – at least: Red, yellow, white, blue, green and black
♦ Brushes (cheap brushes are fine, best to have a variety of shapes and sizes)
♦ Q-tips (to use as brushes)
♦ Bag of wedge makeup sponges
♦ Palette (muffin tin, cookie sheet, plastic or paper plate, or even a sheet of glass works well)
♦ Jar or can for water to clean brushes
♦ Etching or stamping tools (old pens, bottle caps, whatever you have at home.)
♦ Cleaning rags or paper towels (old towels or sheets are great)
Optional
♦ Foam brushes (found at most hardware stores)
♦ Spray bottle for water
♦ An apron 😉
♦ Barrier Cream or latex gloves – if you want to paint with your hands and don't want paint on them
♦ A place to paint (I prefer to paint on the floor, but a table will also work, or an easel)
♦ Newspaper or plastic to keep your space clean
These are the basics, more or less. As mentioned, if you feel inspired you can add to the collection.
Booking and cancellation policy
Bookings need to be made 48 hours before the event.
Cancellation policy:
Please note, I do not offer refunds. However, if you give me at least 48 hours notice of your need to cancel, I will credit your session toward another date. However, if you do not cancel with at least 48 hours notice, you will lose any payments for the session you have already made.
What is included?
5 online group sessions and a 30 minute 1-1 private coaching with me.
Do you offer a payment plan?
Yes, there will be two payments of USD 150 each
How does the booking work?
Once you have made the payment you will receive a confirmation email with all the details as well as a link to all the appointments where you can then book your personal date preferences.
Can I book individual sessions?
Yes, individual sessions can be booked for USD 37 per session.
Can I book personal individual sessions?
Yes, personal individual sessions can be booked for USD 197 per session (1.5 hours).
How does it work in zoom?
For every session that you book you will get a zoom link from me to join 24 hours before hand.
To be able to join from your tablet or mobile you will need to download the zoom app. On you computer you can enter without having to have the app.
How do get feedback on my painting?
The easiest way is to take a photo of your painting and add it into the chat in zoom.
I signed up for this workshop because was in a slight upheaval. Both professionally and privately, there are a few things that were even a little more unclear as it continued. For me it was a fantastic opportunity to go a little bit more into myself and find out more.
It was really an interesting adventure that had much to do with curiosity and just to discover and let go and see what comes next. So anybody who wants to connect with his inner curiosity and their playful side should definitely do it.
I didn't paint for a very long time, as a child I loved painting with really strong and bright colors and I think at home I wouldn't do it but with Jenne's guidance it was really fun and it was such a relief to do this painting because for me it's really important to go through life with my intuition and my inner guidance and it was all part of this painting. To listen to your inner guidance and listen to your subconscious mind and just paint your emotions out. And just get connected with yourself.
Hi, I'm Jenne
a Board Certified Hypnotherapist, Kinesiologist and Therapeutic Art Life Coach.
Originally from Namibia, I have spent more than half of my life in Switzerland.
My mission is to empower women to unleash their inner "rebel" and discover a new outlook on life to enable them to move forward with purpose and in practical ways.
In addition, I support and mentor women going through a wide range of other life challenges including stress management, insomnia, depression and anxiety.
Art plays a big part of the healing journey and this is why I offer online and offline painting courses and workshops to facilitate personal emotional transformation.
I am married, have two children and live in Zürich.
Read more HERE